Researchers have figured out how to stop bread from moulding without pumping it full of nasty cemicals
Access here the full release at Business Insider Australia
Access here the full paper at ACS' Journal of Agricultural and Food Chemistry
Collaborators: LABEM at UFV | UEFS
Edible Films And Essential Oils
By Katie Jennings  |  Business Insider Australia – Instead of adding preservatives directly into or onto food, natural compounds can be added to packaging material, which then interact with the food to prevent spoilage — a technique called "active packaging."
These compounds can come from plants that have natural antimicrobial properties. For example, researcher Caio Gomide Otoni of the Federal University of Vicosa in Brazil is working, along with his colleagues, to harness the antimicrobial power of oregano and clove bud to preserve fresh bread.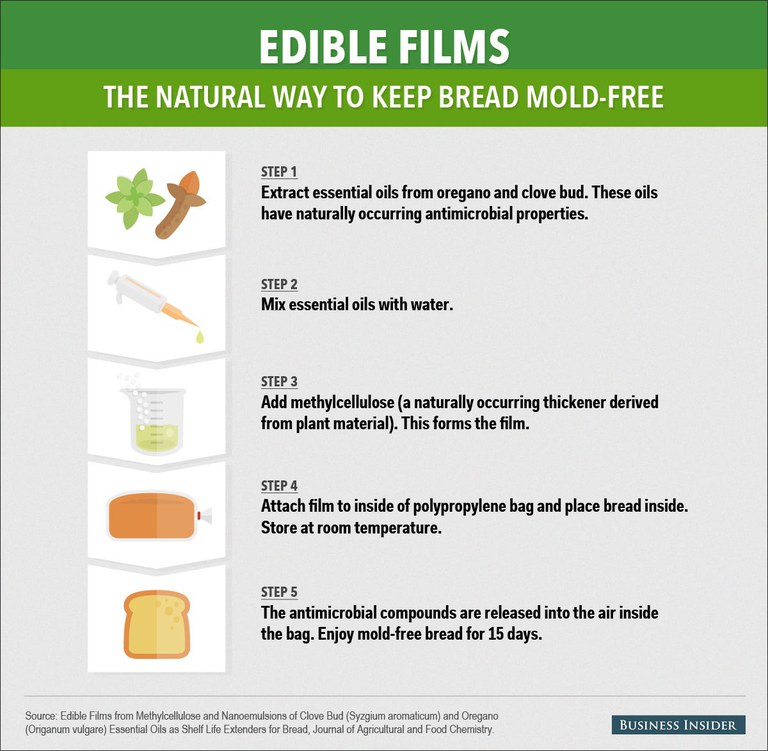 Normally, bread is packaged in plastic bags to prevent it from interacting with oxygen in the air, which slows down the process of spoilage. Otoni and his team are creating "edible films," a super-thin packaging layer made out of edible plant material containing plant essential oils.
The edible film clings to the inside of the plastic bag, but also touches the bread and transfers the antimicrobial compounds onto it, Otoni told Business Insider.
Oregano essential oil has a pungent, bitter taste in its pure form, so the films are made with dilutions of the essential oil. Otoni and his team are trying to find the sweet spot — the highest concentration of the essential oil dilutions that can be used without affecting the bread's taste.
In certain dilutions, the team's edible films can slow down mould growth for up to 15 days. They detailed their findings in a new paper published in May in the Journal of Agricultural and Food Chemistry.

Essential oils can also be released into the air inside the packaging from small pouches of porous plastic, called sachets. The team's 0regano essential oil sachets can also slow mould growth in preservative-free bread up to 15 days, according to a paper published in January in the Journal of Food Process Engineering.

In the sachet experiment, the packaging was opened at five-day intervals. "Though we have not tested daily openings, I would say they are still effective," said Otoni. Opening the package brings in air from the outside, which drives the diffusion of the essential oils from the sachet or film and into the air inside the package.
Otoni is optimistic that these techniques could be used on a larger scale, on different types of bread. For example, the edible films are great for vacuum-packed food, where the sachets wouldn't work. They are also doing research on applying these films to fruits — like papaya and guava — as well as meat products, dairy products, and even peanuts. Some other compounds they are experimenting with include papaya puree, mint, and cinnamon.